Leadership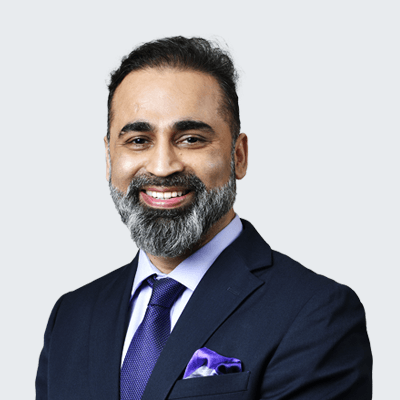 Parag Raja
Managing Director and Chief Executive Officer
Parag Raja is the Managing Director and Chief Executive Officer of Bharti AXA Life Insurance. His career spans more than two decades in distinguished firms such as Aditya Birla Sun Life Insurance, Max Life Insurance, ICICI bank and ANZ Grindlays Limited. He is a Postgraduate in Marketing Management from the esteemed Jamnalal Bajaj Institute of Management Studies, Mumbai. He holds a Bachelor's degree in Commerce from HR College and a Master in Commerce from Sydenham College, Mumbai
Before joining Bharti AXA, Parag was the Chief Distribution Officer at Aditya Birla Sun Life Insurance where he planned and executed the strategic direction for expanding the organization's footprint across the country while spearheading its robust sales growth. He also established a vital Bancassurance relationship with HDFC Bank which went on to be one of the key drivers for Aditya Birla Sun Life's growth. While working with Max Life, Parag was instrumental in building a formidable partnership with Axis Bank to create the largest non-captive and third-largest bancassurance relationship in the country.
He is in charge of leading the company through its next phase of growth and transformation. Parag is a conscientious and result-oriented leader which has been validated by his proven track record in delivering sustainable outcomes.
Parag is in charge of developing the overall strategy for the growth of the organization and for deploying resources to achieve business objectives. He is the public face of the organization and takes significant decisions which determine the direction of the organization's growth trajectory. He plays an integral role in creating and implementing the vision and the mission of the organization. Parag engages closely with the board of directors to define the long term goals for the organization and establish best in class corporate governance practices . He oversees the operations of the organization with the assistance of the entire leadership team. As the principal value enabler, Parag's responsibility is to ensure that the organization delivers value to multiple stakeholders including customers, employees and shareholders.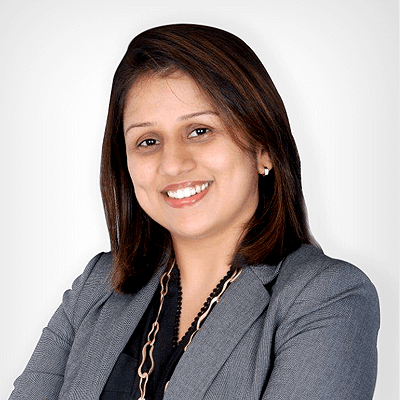 Dhanashree Thakkar
Head – Human Resources
Dhanashree Thakkar is the Head – Human Resources at Bharti AXA Life Insurance. She leads the people, talent and culture agenda with primary focus on creating capacity for growth in the organization.
Her career spans almost 2 decades of experience across different sectors - Automotive, Media, Retail, BFSI and Consulting in Indian and multinationals McDonalds, Korn Ferry, Mahindra and Mahindra , Kotak Life Insurance.
She has worked across geographies in India and China. Her educational background is Masters in Psychology, and has completed General management from IIM Ahmedabad.
Prior to joining Bharti AXA Life Insurance, Dhanashree was Chief People officer at Group Office- Future Group managing the restructuring, manpower optimisation projects across the group. She has led several business and change transformation projects across Kotak Life Insurance, McDonalds India.
Dhanashree is in charge of ensuring the cultural ethos, people strategy which delivers the business outcomes and prepares the organisation for higher performance. As leading the culture and talent agenda she looks forward to ensuring we have the right set of people to deliver the vision and mission of the company with employee experience at the core. Apart from work, Dhanashree enjoys mentoring start-ups, has built scale-up strategy for schools, adopted a village school and has run leadership initiative for children. She is trained on Appreciative Inquiry from Case North-Western university, predictive analytics from Wharton and is a trained leadership coach.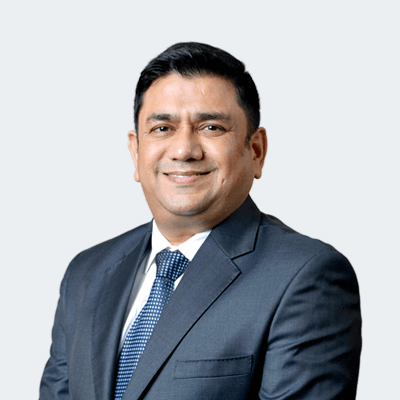 Murli Jalan
Chief Distribution Officer, Proprietary
Murli is the Chief Distribution Officer, Proprietary channels at Bharti AXA Life Insurance. He has close to three decades of experience in sales & business development across the manufacturing, banking and insurance sectors with strong command of quality distribution build-up. Murli has previously worked with Aditya Birla Sun Life Insurance Co. Ltd., Max Life Insurance and TATA AIA.
Murli has been at the forefront of designing, reviewing and transforming strategies for the company's distribution verticals. He regularly combines leading best practices with market generated insights to bring about measurable improvements across key performance metrics. Under Murli's leadership, the distribution channels have been galvanised to achieve exponential business growth. By implementing multiple initiatives, Murli and his team have bolstered the agency channel and empowered our agents to forge deeper engagements with prospects and customers. He has enabled our distribution team to emerge as a formidable revenue generation engine by leveraging opportunities across new and existing customers.
His incessant focus on cultivating and nurturing enduring relationships with distribution partners has augmented our business development endeavours.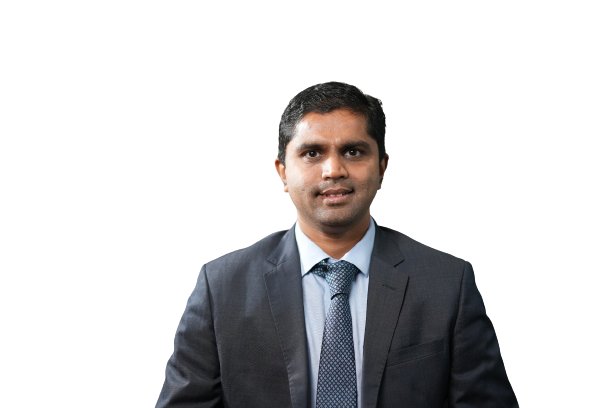 Rikhil Shah
Chief Financial Officer
Rikhil Shah is the Chief Financial Officer at Bharti AXA Life Insurance. With an experience of nearly 20 years, Rikhil is a seasoned strategic and analytical CA professional who has significantly contributed to the advancements in the transformative endeavours of large establishments.
In his prior role with SBI General Insurance, spanning 13 years, Rikhil has played a crucial role in the evolution of the company. With a strong command of analytics, HR, investment operations, and procurement, he has also spearheaded technological initiatives aimed at enhancing the accessibility of information for sales and distributors, enabling faster decision- making.
Previously, Rikhil has been associated with HDFC Ergo Insurance, Phillips Carbon Black, and Oxford Laboratories. He has garnered numerous accolades, including the recognition of 'Best CFO—Mid Corporate—BFSI' by the Institute of Chartered Accountants of India in 2019-20.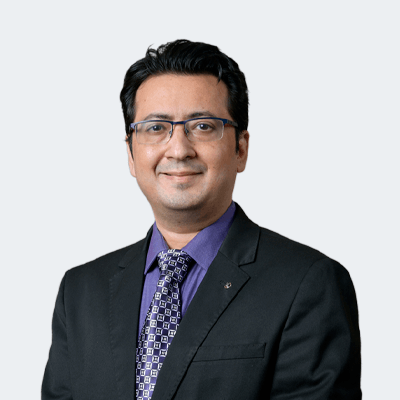 Nitin Mehta
Chief Customer Officer & Head – Marketing, Digital & Online Sales
Nitin Mehta is the Chief Customer Officer & Head – Marketing, Digital & Online Sales at Bharti AXA Life Insurance. He leads customer service and operations and is responsible for the digital business. Nitin comes with over two decades of experience across geographies such as India, Indonesia, Thailand, and China by working in organizations like Amway, Frito-Lay, KPMG, and Aditya Birla Group. He is a qualified Chartered Accountant and holds an MBA from ISB, Hyderabad.
Nitin plays a vital role in crafting corporate and customer strategies to maximise digital sales, customer delight, retention and profitability across all touchpoints and phases of the customer journey. Under his leadership, digital business is supported by cutting edge data analytics elevating the benchmark of customer experience and satisfaction.
By stimulating and executing customer led initiatives, Nitin is involved in driving customer renewal and expansion along with delivering strong technology capability and forming efficient and effective operational procedures. Nitin and his team are zealously committed to maintaining and growing digital business, customer loyalty across segments by building its foundation with strong data-backed consumer insights.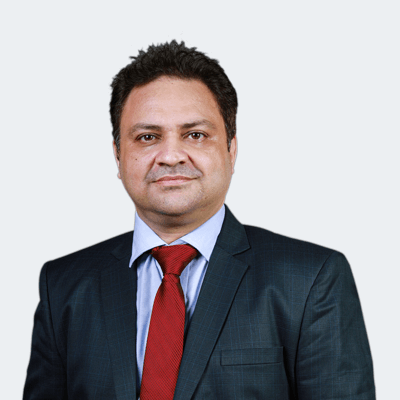 Pankaj Gupta
Chief Technology Officer
Pankaj Gupta is the Chief Technology Officer at Bharti AXA Life Insurance. Pankaj manages IT strategy, enterprise architecture, digital transformation and the delivery of large-scale technology enabled business transformation programs.
He has experience with renowned firms such as Tata Consultancy Services, Fidelity International and Max Life Insurance Company Limited. Pankaj has completed his Bachelor of Engineering in Computer Science from NSIT (formerly Delhi Institute of Technology).
As the CTO, he provides seasoned leadership at the confluence of business and technology within the organization. His role involves creating the strategic roadmap for leveraging technology as a critical business enabler.
Pankaj provides technology governance for defining and implementing IT policies and practices at an enterprise level. Pankaj and his team enable our organization to stay ahead of the technology curve by tracking emerging technology trends. He is the principal technology evangelist within the organization and is a key enterprise-wide change driver.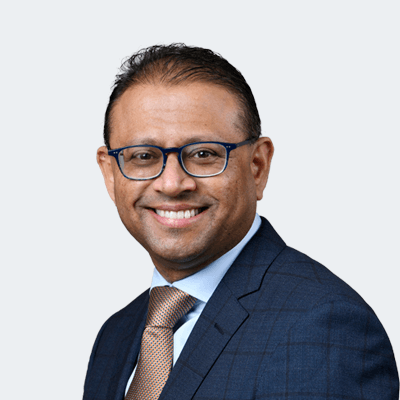 Rahul Bhuskute
Chief Investment Officer
Rahul Bhuskute is the Chief Investment Officer at Bharti AXA Life Insurance.
Rahul is a tenured investment professional with over two decades of diverse and extensive experience across organizations such as ART Special Situations and ICICI Group. Rahul has completed his MBA from Jamnalal Bajaj Institute of Management Studies, Mumbai after completing his engineering at VNIT, Nagpur. He is also a certified CFA, having completed all three levels of the course by CFA Institute, USA.
At Bharti AXA Life Insurance, Rahul leads an astute team which manages substantial investment portfolios. Under his leadership, his team engages with treasury departments of banks, insurance firms as well as rating agencies for enhanced decision making. He also liaises with external portfolio managers, investors, analysts and other stakeholders. He defines investment objectives and develops the roadmap to achieve them. His team also evaluates potential investment opportunities for deploying surplus funds. His responsibilities comprise conducting periodic analysis of the holding portfolio versus the benchmark as well as liquidity management across funds. His role also involves overseeing liquidity analysis and stress testing portfolios. Under his supervision, his team prepares investor analysis reports that offer significant insights.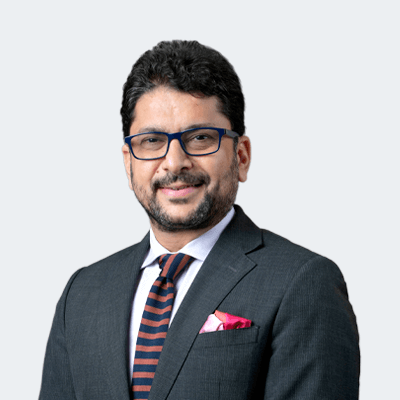 Sandeep Mishra
Chief Distribution Officer, Partnerships & Group Business
Sandeep is the Chief Distribution Officer, Partnerships & Group Business. He has close to two decades of valuable experience in relationship management and building partnerships across distribution channels in his past roles at premier insurance firms. Prior to joining us, Sandeep has previously worked with Aditya Birla Sunlife Insurance and Max Life Insurance. Sandeep is an Economics honours graduate and has completed his PG from Times School of Marketing, New Delhi.
Sandeep is deeply involved in formulating strategies to discover areas of growth and expansion for the organization through partnerships. He continues to demonstrate excellence in motivating his team to consistently achieve business goals. He recognises the value that can be unlocked by building enriching channel partnerships and building synergies across people and processes. His exceptional relationships with major banks have translated into significant growth opportunities for the bancassurance vertical. Sandeep and his team have expanded the group business portfolio by providing relevant offerings to reputed corporates, renowned MNCs and fast growing enterprises. His responsibility also includes spearheading training initiatives across the distribution channel.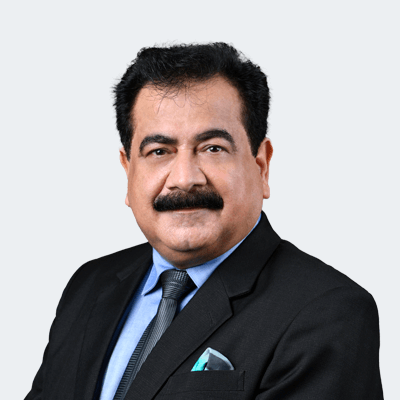 Sanjay Sabharwal
Head, Distribution Transformation
Sanjay Sabharwal is the Head - Distribution Transformation at Bharti AXA Life Insurance. In this role, he is responsible for designing and executing upon a strategic transformation, optimization, and modernization journey for sales and distribution across the channels.
He possesses an overall experience of more than three decades, predominantly in successfully running extensive distribution channels for organizations across consumer durables and life insurances and has worked with firms such as Reliance Life, Future Generali India Life Insurance and Max Life Insurance. Sanjay has completed his Master in Business Administration in Marketing/HR from Institute of Management and Technology (IMT) Ghaziabad.
He and his team propel multiple initiatives to deliver a high-functioning infrastructure that serves as the foundation supporting our field distribution organizations. By wielding a multi-pronged approach, Sanjay empowers the implementation of overall sales enablement strategies and sales operations efforts including tools, technologies, training, and departmental initiatives.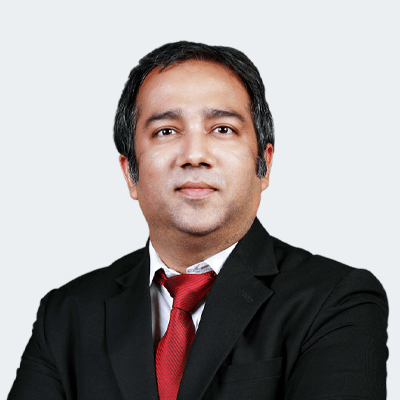 Varun Gupta
Chief & Appointed Actuary
Varun Gupta is the Chief & Appointed Actuary at Bharti AXA Life Insurance. He has close to two decades of diverse experience in strategic and leadership roles across leading organizations in the Indian life insurance sector. Varun has worked with esteemed organizations such as Max Life Insurance Pramerica Life Insurance and Tata AIA Life Insurance. He is a B.Tech (Mechanical) from IIT-BHU and went on to do an MBA in Finance & Marketing from IIM-Calcutta. He completed his fellowship from the Institute of Actuaries of India and Institute of Actuaries of UK in 2007 and is involved with the Institute of Actuaries as Chairperson of their Examination Group
His role is vital in analysing the financial cost of risk and uncertainty. Varun and his team are involved in designing insurance policies and determining premium pricing which is pivotal in enabling our organization to maintain significant competitive advantage. By leveraging technology and statistics, he enables the organization to craft inimitable risk models for predicting and measuring emerging risks. He is also responsible for the assessment of underwriting risk for the purpose of managing reinsurance across the organization.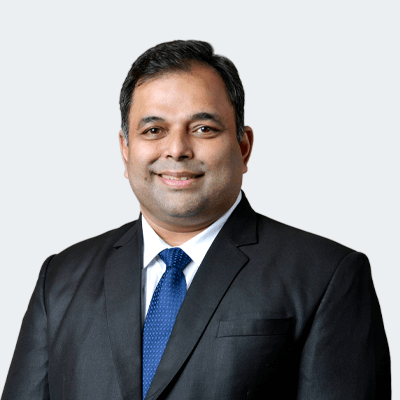 Vinod Benedict D'souza
Head - Compliance Secretarial & Legal
Vinod D'Souza is the Head - Compliance Secretarial and Legal at Bharti AXA Life Insurance. He leads legal, compliance, fraud control and the company secretarial functions for the organization. Vinod is an accomplished professional with more than 18 years of professional experience under his belt, including 16 years in the life insurance industry. Before coming on board with Bharti AXA Life Insurance, Vinod had impactful stints in distinguished organizations such as Birla Sun Life Insurance, Thomas Cook and Internet Securities Inc. Vinod is a Company Secretary and holds graduate degrees in law and commerce from the University of Mumbai.
Vinod and his team handle legal affairs, fulfil compliance requirements and administer fraud control practices. Vinod's role involves identifying and mitigating legal and regulatory risks. He plays a key role in aligning legal and compliance policies with corporate strategy. Vinod's team ensures that people and the organization adhere to regulatory requirements and internal policies. Implementing fraud detection and control mechanisms are other important responsibilities which are handled by Vinod's team.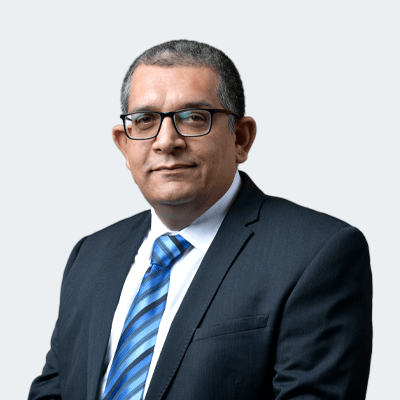 Vipul Sharma
Chief Risk Officer
Vipul Sharma is the Chief Risk Officer at Bharti AXA Life Insurance. He brings in two decades of experience in risk management, internal audit and operations management. He has worked with HDFC ERGO Health Insurance, ICICI Prudential Life and ICICI Bank. He holds a Masters degree in Finance and Control and is also a certified Information Systems Auditor.
Vipul's leadership enables our organization to exercise vigilance and manage multiple forms of risks. Vipul is responsible for creating effective risk management strategies and ensuring their adoption across the organization. Vipul and his team maintain a robust ecosystem for measuring risks, providing guidance and imbibing risk mitigation into offerings and transactions.
Vipul utilizes internal audits, process reviews, stress testing, fraud and cyber risk models for assessing overall risk to improve controls and restrict residual risk at acceptable levels.
He is also a custodian of our organization's risk appetite and plays a vital role in enabling or amending business decisions based on effective risk measurement metrics.